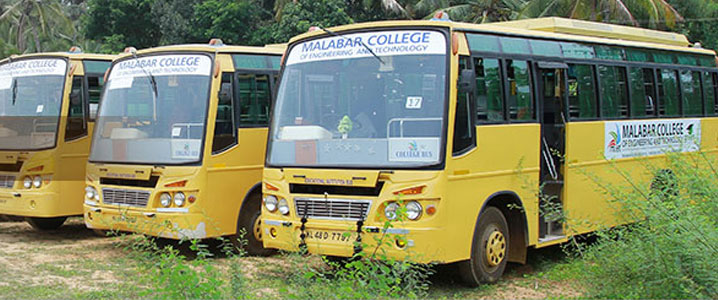 Transportation
Objective
In a mode, vehicles are the trademark carriage of MCET and they ease daily commuting issues of the students. The Expert and experienced staffs manage transport system promptly. MCET vehicles touch every nook and corner of the district. There are more than 15 buses doing services up and down. Almost 60% of the students Utilize institution's transport facilities, which help them to reach the campus on time.
Safe and Stress Free Travel
A complete bona fide Transport department works in the college to render transport facility to students and staffs from different regions. These buses functions full-fledge for providing transport facilities to all staffs and students from every look and corner. Drivers who have vast experiences in this field are given the complete control to ensure safety of the students.
This service is available assuring a stress free and secure transportation for the students. The college has been provided with 3 buses to fulfill any emergency commitments and employment activities. These buses also helps the students during the phase of their visit to companies and industries.
Well Organized Management
The management is responsible to increase the number of buses once the intake of student gets high. Currently the college is studded with ample buses to provide transport facility for the students and staffs. MCET ensure that a normal fee is collected per annum from students for using the bus facility. The college provides the principal a car to bear his transporting issues.