Amrith Kalash Yatra: NYK's BIO NATURE Club and NSS Unit 213 Lead Awareness Campaign for Nature Conservation in Wadakkancherry
Posted by

Date

October 20, 2023

Comments

0 comment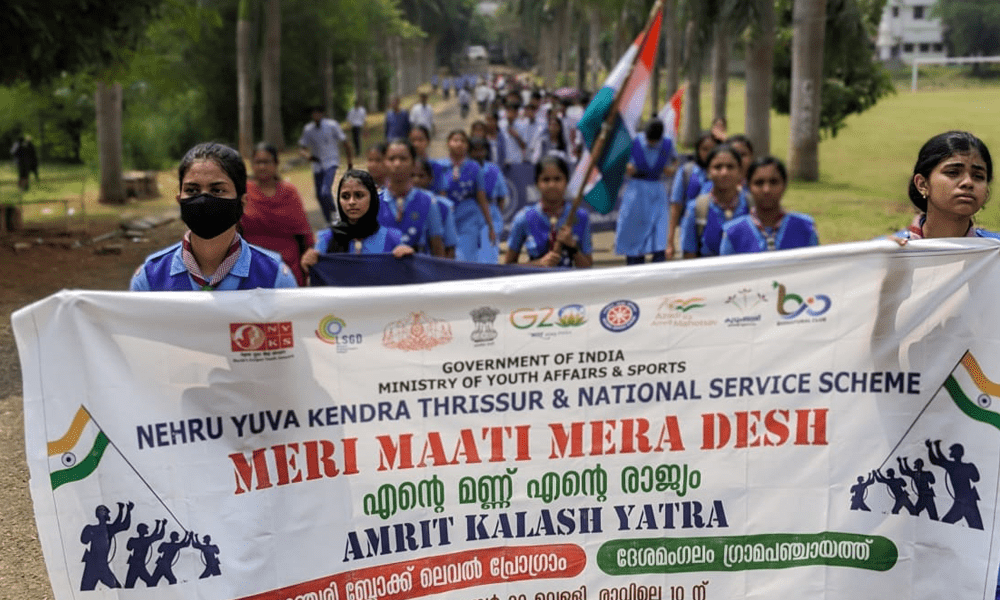 The Nehru Yuva Kendra's BIO NATURE club recently hosted the amrith kalash yatra as part of the Meri Maati Meri Desh campaign, under the supervision of NSS Unit 213. In his opening remarks, Dr. Mansoor Ali, the director of MCET, shared his thoughts and set the tone for the event. The program was inaugurated by Mrs. Nafeesa, the president of Wadakkancherry Block. The presidential address was delivered by the Mr. Jayaraj, President of Deshamangalam grama panchayat. Mr. Abdul Salam, the president of the Bio Nature Club, took the initiative to impart awareness regarding the upcoming event. The amrith kalash yatra, organized by the BIO NATURE club, serves as a pivotal initiative in raising awareness about the importance of nature and
The soil that has been accumulated in Wadakkancherry from different organizations and panchayaths was contributed by students from various institutions.
Commencing from GHSS Deshamangalam and concluding at Malabar College, an impactful rally was organized. Lastly, it is important to acknowledge Mr. Nazer, the esteemed vice principal of MCET, who graciously extended his gratitude through a vote of thanks.